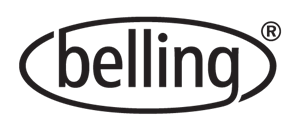 Over 100 Years Dedicated to Quality
Belling has been at the heart of British cooking for more than a century and we are proud to say that four generations of cooks have grown up with a Belling appliance in their kitchen.
Best Buys
Over 100 Years Dedicated to Quality
Belling is proud to be part of Glen Dimplex Home Appliances, the only manufacturer that builds freestanding cookers, built-in ovens & hobs and range cookers right here in the UK. Manufacturing uniquely British products for British cooks. Belling products are made with painstaking attention to detail, and its production site is purposely split into small teams, who work solely on just one product, carefully assembling each and every appliance from the ground up, by hand.Belling's first class customer service has seen the brand win the much coveted Total Excellence Quality Customer Care award four times, this year recording its highest ever score. Our UK-based customer call centre employs 130 operatives and 200 service engineers. Our Customer Services is UK based and award winning. We've been awarded the Queen's Award for Enterprise 2012 and Total Excellence and Quality Customer Care Award 2012.
Latest Belling Promotions
FREE LOCAL DELIVERY
Enquire for details
UNBEATABLE PRICES
Get in touch today
FREE DISPOSAL
We'll remove your old appliance